WHO WE ARE
At Haven Middle School for Social Leadership, we believe that all children deserve an education that equips them to be confident social leaders able to own their growth and development, promote social change, and inspire others to take action. We know that a great education requires more than academic achievement.That's why at Haven Middle we're committed to creating safe, inclusive spaces for scholars to learn about themselves and their community.
WHAT WE OFFER
We believe a school environment should be a haven for academic, personal, and social development. At Haven Middle School for Social Leadership, we create an environment where scholars:
Are welcomed. We work tirelessly to create and maintain a welcoming space for scholars, families, and team members.
Learn through collaboration. Learning is not a solo sport. Scholars frequently engage other scholars as well as their teachers to push their thinking and dive into learning.
Have a voice in their own learning. Scholar voices are heard and respected at Haven Middle.
WHAT WE WANT FOR SCHOLARS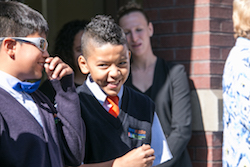 We honor the diverse voices of our scholars, families, and team members to build a responsive learning environment that prepares graduates to become:
Owners of their academic and emotional growth: We believe that scholars should graduate with the emotional intelligence to recognize their strengths and weaknesses to improve themselves and their community. Scholars are supported to become owners of their personal development — both academic and emotional.
Confident social leaders: We are committed to preparing scholars to become engaged, effective civil leaders who advocate for justice and equality. Scholars develop a nuanced understanding of American and global social history to become leaders in the social justice movement.
Citizens able to meet their goals: We believe in the innate potential in all scholars, regardless of their background. Scholars will develop the knowledge and skills to succeed in high school and choose their futures.